Imaginet presents RA10173 Data Privacy Act to Propeller Club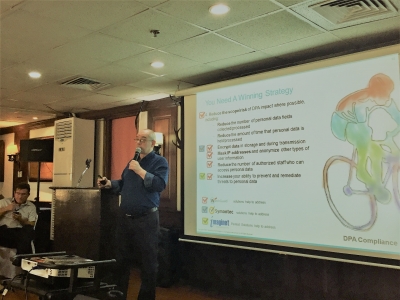 Imaginet International Inc CEO, Blair Duncan presented to 60 members of the Manila Propeller Club, the local Crewing and Charter Agents Society, on RA 10173 (The Data Privacy Act) on the levels of protection Companies are expected to implement to be compliant, and the potential risks for failing to do so.
Shipping Owners, Representatives, and Charter Agencies received a 15-minute briefer on what the Law covered, where it would affect them and their relationships with their clients and crewmen, and the steps they should be taking to ensure they are fully compliant.
All were invited to attend a full 1 hour more detailed briefing on Feb 20 or 22nd - and also to contact Imaginet should they wish to avail of a full compliance Audit and assistance in creating a privacy manual and associated policies.
More information on future Data Privacy Events in Makati by Imaginet in February please refer to the Events poster RA10173 Awareness Coffee sessions.