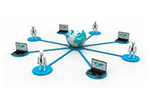 Managed Network & Security Services
Imaginet's Managed Network or Firewall Services allows you to outsource your day-to-day network management support for Firewalls, PCs, Servers, LANs & WANs. This creates a reliable and efficient network allowing you to focus on your core business.
Using the ITIL based IMAC approach, we are able to perform Installations, Moving, Additions and Changes in your infrastructure ensuring worry-free network, services and application availability with full accountability, reporting, and compliance tracking
Managed Network Services supports your business by providing 24/7 monitoring, failure response and resolution process including coordination with third party warranty providers and ISPs.