Mining and Mineral Exploration
The Philippines ranks top 6 in gold, nickel, copper, and chromite in the world with an estimate of US$840 billion worth of mineral wealth. Because of the rich natural resources of the Philippines, Mining and Exploration are considered to be one of the largest and most profitable in terms of investment in the Philippines.
When it comes to the Mining Industry, companies face challenges ranging from Internet access, secure network for multiple sites and remote locations, VOIP (Voice Over Internet Protocol), to messaging and email hosting. Imaginet is the leading IT systems integrator and managed network, hosting and content security provider for the Mining and Exploration sector. Imaginet works closely with clients from groundbreaking, onsite support to daily operations collaboration, and understands the challenging environment and the demanding business process of the Mining industry.

Have a Consultant call me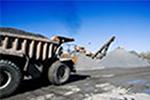 The following case studies are representative of work performed for the Mining & Mineral exploration industry.